David J. Eckert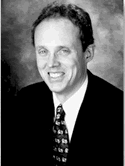 David J. Eckert is a 1980 graduate of Northwestern University Law School in Chicago, Illinois where he was honored as a member of the Journal of Criminal and Criminology. He is licensed to practice in Wisconsin.
Mr. Eckert's practice areas include estate planning and probate, elder law, Medicaid planning, real estate, corporate law, commercial transactions, and employment law.
Mr. Eckert is the author of "The Importance of Estate Planning: Basic Tools and Strategies for Effective Life and Death Planning". He is active in various community organizations.
Mr. Eckert is a past instructor at North Central Technical College and a frequent seminar speaker on estate planning and elder law.